I keep getting emails and text messages asking me, "are the Chiefs really that good"?  The simple answer is yes!  My next comment is, and that's without All-Pro Safety, Eric Berry, starting running back Spencer Ware and our center Mitch Morse.  Eric Berry and Spencer Ware are out for the year, which are both tremendous losses to the Chiefs.  Mitch Morse has a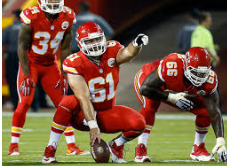 foot injury and should be back soon.  Fortunately we replaced Spencer Ware with, right now, the best running back in the NFL; Kareem Hunt.  It is difficult to loose a player like Eric Berry and expect the defense to play at a high level, but they are picking up the slack very well.
They have already played on the biggest stages starting the 2017 season.  The opening game on Thursday night against the defending Super Bowl Champions, the New England Patriots and on Monday Night Football against the Redskins, a really good team.  They are the only 4-0 team in the NFL, which no one predicted.  How is this possible, several of my non believers have asked!
For the first time, in a very long time, the Chiefs have more offensive weapons at their disposal than at any time I can remember, dating back to 1975.  Alex Smith, the quarterback, is playing exceptionally well, making all the plays and keeping drives alive with his legs as well as his arm.  The Chiefs have four other players that opposing teams have to account for on every offensive play, Kareem Hunt, Travis Kelce, Tyreek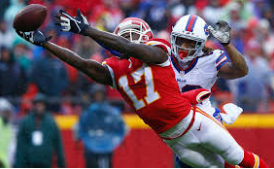 Hill and in my opinion the sleeper, Chris Conley, a 6'3″ 205 pound wide receiver who has tremendous speed, 4.35 in the forty.  Defensive coordinators are literally spending sleepless nights trying to figure out a scheme to stop them.  A luxury for the Chiefs.
Offense can't win games by themselves.  The Chiefs defense has done a very good job of stopping the run, a weakness of the 2016 defense.  With the loss of Berry at safety, the Chiefs secondary has had to step up their play and have responded very well.  Still one of the top defensive teams in creating turnovers, which is a key statistic the offense loves to see.  What is more impressive is who they have played against, Tom Brady, Carson Wentz, Philip Rivers and Kirk Cousins.  Four of the top ten quarterbacks in the league.
Let's not forget the Chiefs may have the most effective punter, Dustin Colquitt, in the NFL.
It's the Okay the jump on the Chiefs Ban Wagon!
The Outdoor Quarterback