It's that time of the year so I am getting gear together to head out to New Mexico for an archery elk hunt. Even though this is my 17th annual trip I still  put together a packing list of things I need to bring.  Normally I have put a first draft of items to bring and without fail I always find that I have left something off the list that I really need.  On this trip I will be staying at a lodge and don't need things like a sleeping bag or camp gear such as a tent, stove, cooking utensils, food and etc…
That packing list is much more in depth and several pages in length.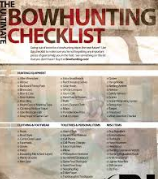 Even the packing list I put together for this hunt is pretty detailed.  From clothes, light weight for warm weather and heavier clothing for colder days.  To rain gear which is always at the top of my list.  Out west you can count on rain usually every afternoon.  There is nothing worse then getting soaked and being a long way from your vehicle or camp, it makes for a miserable hunt.  Make sure it is a priority on your list.
I always consider the type of hunting I will be doing and that determines the type of boots I will be using.  Light weight for hiking and heavier and warmer for sitting in tree stands.  The obvious next items are socks, thick or medium.  Medium weight socks for hiking and heavier for sitting. There is nothing worse than getting cold feet and hands setting in a tree stand or in a ground blind.  I also take several types of gloves for the very same reasons.  I also take a couple different types of long underwear, again light weight for hiking and heavier for sitting or for very cold days when I am spot and stalk hunting.  I think you can see where I am going with my packing list, just one type or style is not enough.  That goes for your outerwear as well.
The biggest challenge I have is what extra equipment I need to bring for my bow.  I always bring a second bow just in case something serious happens to my favorite bow.  I do bring enough replacement parts to fix or replace just about anything that would go wrong or break like the peepsite, fletching, nocks and inserts for the arrows.  Extra releases, broad heads, D-loop string and oh yes, tools!  The list is much longer but I think you get the idea.  Without an extensive packing list, I will guarantee you will leave something behind that would be vital to your hunt or equipment.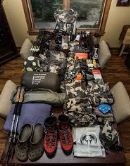 Make up a packing list and check it several times.  I have found that laying everything out and checking it off my list is the very best way not leave home without it!
The Outdoor Quarterback