There are some great games this week in the NFL.  One particular game is the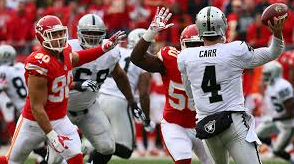 Chiefs vs Raiders.  Both teams are 6 and 6 with division implications written all over it.  The loser of this game maybe out of the playoffs for this year.  I know the Chiefs have won 6 out of the last 7 meetings, but the Chiefs have been in a downward spiral for past six weeks.  The Raiders won the first meeting on a late fourth quarter touchdown in Oakland.  This is one of the best rivalries in all of the NFL, I am sure that loss doesn't sit well with the Chiefs.  But for the Chiefs to win, they must tackle on defense and play less conservatively on offense, much like they did against the Jets and the New England Patriots.
Another game that I will be watching is the Saints vs Falcons.  As a former quarterback, this game offers two of the best in the league.  A for sure Hall of Fame'r, Drew Brees and a potential Hall of Fame'r Matt Ryan.  Love to watch these guys play.  Neither one of them are afraid to toss the rock in tight spots.  Both the Saints and Falcons can run the ball well, which will present challenges to each teams defenses. 

My two favorite players in this match up are, Julio Jones (Falcons) and Alvin Kamara  (Saints).  Jones may be the best receiver in the NFL and Alvin could be offensive rookie of the year.  Each of these players can do it all at their positions.  Should be exciting to watch.
One other game that I will turn on this weekend is the Rams vs Eagles.  The two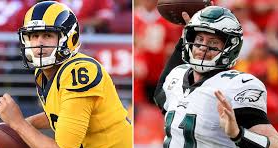 quarterback were drafted 1 and 2 two years ago.  Both Jared Goff and Carson Wentz are exceeding everyone's expectations.  The Rams and Eagles are leading their respective divisions.  Each of these quarterbacks are having, statistically, great years.  More importantly they are winning games.  Must see TV for the football junkies.
A great weekend for meaningful games.  Don't miss them!
The Outdoor Quarterback