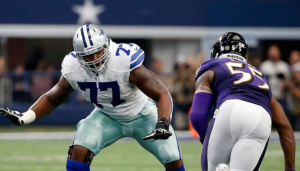 How valuable do think left tackles are to starting NFL Quarterbacks? Just ask them!  The most valuable is what you will hear.  Over years of watching NFL games and analyzing quarterbacks, I have found that successful quarterbacks, statistically speaking, have one thing in common, experienced tackles both left and right.  It is those Quarterbacks, who are fortunate to have veterans at the tackle positions, extend their careers and realize great successes.  More and more teams are putting a premium on their tackles particularly the left side.  Most NFL Quarterbacks are right handed which makes the left tackle the protector of the quarterbacks blind side.  It is critical for quarterbacks to feel totally confident that their blind side is taken care of.  When you can play with confidence you can play with focus, great left tackles affords quarterbacks that luxury.
Next time you watch Tom Brady, Aaron Rogers, Drew Brees, Carson Palmer and Matt Ryan play, focus in on their left tackles, watch how they move their feet, extend their arms, use their hands.  They have developed techniques essential to playing the tackle position at a very high level, a true blessing to the quarterbacks.  Just look at the number of tackles in the Pro Football Hall of Fame.
Several NFL starting tackles have been injured and are out for the season.  Pay attention to teams who will begin to struggle with their passing games because of the loss of their starting left tackles.  Really good left tackles are not just sitting around waiting for a phone call, they are already on a team.  The teams who won't see much of a drop off in their passing game are teams who understand the importance to having depth at that position.  The Seattle Seahawks will be a team to watch, their starting left tackle, George Fant, is out for the season, and they are scrambling to find a replacement.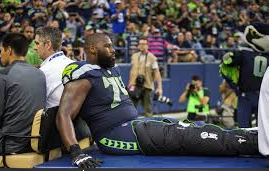 NFL Quarterback owe their careers to great offensive lines, but no one on that line is more important than the left tackle!
The Outdoor Quarterback