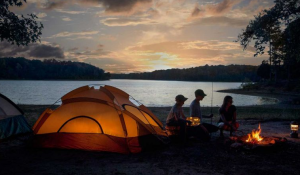 The last chance to camp with the family before school gets started is closing in.  Once school starts and the activities begin, it's hard to get everyone on board to spend the weekend camping and enjoying what the outdoors has to offer.  I am not necessarily talking about taking a long road trip, just find a facility close by that allows overnight camping, load up your tent or camper, including the kids and spend a couple days of quality outdoor time.  Do a little fishing, wildlife watching, hiking or bike riding, anything to promote the outdoor experience.  I am sure the entire family will enjoy getting away from the house for a few days before the fast pace of school begins.  These are the types of experiences that create life long memories, family traditions and family entertainment.
I wish I could have had more of these types of family experiences, but sports and having a father in the military prevented that from happening.  As a father myself we tried to do things that involved the outdoors on a regular basis.  Float and canoe tips, fishing and cycling where always the most fun, and yes they included camping, cooking out and building camp fires where stories about Camp Tepee Tonka became legendary .  Now my kids are grown with families of their own and they still talk about those camping adventures.
I am going to make sure the grand kids get to experience the enjoyment of camping and exploring the outdoors.  Don't miss the opportunity to use those last few days before everyone gets wrapped up with school, sports and other activities and go spend quality family time in the outdoors.  No excuses!
You can check with your state parks division, or a national organization such as American Camp Association, acacamps.org, to find suitable facilities which allow overnight camping.  Make sure you have permission to build a camp fire.  There are some states who are in a drought situation, so open firers may not be allowed.  Just make sure you check.  In most parks and camping areas, signs are posted regarding campfires.  Enjoy your adventure.
The Outdoor Quarterback