Would you rather be lucky or good, because several teams were very lucky to have won their games this past week.  Miami Dolphins are at the top of the list, then the Dallas Cowboys, Oakland Raiders and the Chiefs just to mention a few.
The play that ended the game between the Dolphins and the Patriots was a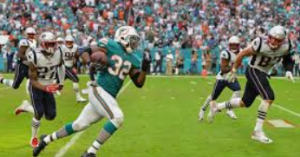 combination of luck and poor decisions on the part of the Patriots.  Why would you put your tightend at the safety postion on the last play of the game when the quarterback was going to have to throw the ball 70 yards to the endzone for a chance to win?  The Miami quarterback does not have the arm strength of a Aaron Rogers or Patrick Mahomes.  So why take the risk of not having someone deep that could run down a player if necessary?   A catch, a couple of laterals, then it was a foot race to the endzone.  The only one who was in position to make the stop was the Patriots TE, Rob Gronkowski.  In other words, a Hummer catching a Ferrari, not going to happen!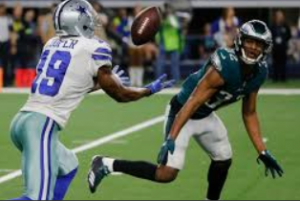 In the Cowboy's game against the Eagles it was just a case of bad luck on a great play in the overtime that allowed Amari Cooper to catch the deflected pass and score the winning touchdown.  Cooper just was in the right spot at the right time.
In the case of the Chiefs win, it was a case of a great player making two exceptional passes on two fourth downs, that allowed  Kansas City to pull out a win against a very good Ravens team.  The luck part in both of these receptions was, none of the defensive players tipped or deflected the ball.  Tyreek Hill made the adjustment, caught the ball, then just out ran the defenders to the sideline.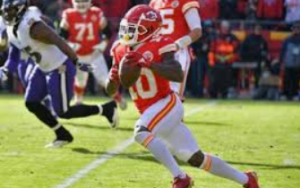 The Steelers were another team that was just unlucky.  The place kicker slipped on the turf with no time on the clock for a game tying field goal.
There were other lucky or unlucky moments for several other teams, but these really stood out.  The old saying, "I would rather be lucky than good", couldn't have been more profound than in these games.
"We're excited to bring you the best content we can at OutdoorQB and if you'd like to support us, one way you can do that is by shopping through our fan gear partner Fanatics. (Link to https://shareasale.com/r.cfm?b=31196&u=1902263&m=7124&urllink=www%2Efanatics%2Ecom%2Fnfl%2Fo%2D3572%2Bz%2D953036859%2D1253393850 )  When you do this, they share a percentage of each sale with us.  Thanks for your support!"
The Outdoor Quarterback